Humanist Wedding Testimonial | Heidi + Sam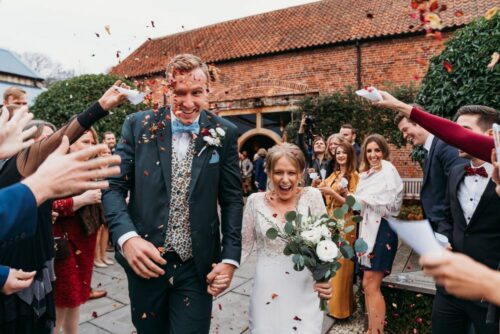 'Where do we begin?
For us both, the ceremony that Hannah had created for us was the highlight of our entire day. It was emotional, personal and encapsulated perfectly our relationship and us as a couple. We had comments from all of our guests about how amazing the ceremony was. It was different to your usual ceremony and had everyone captivated from start to finish.
The personal touches from our friends and family, the poems and contributions that Hannah suggested and wrote so effortlessly, were a wonderful surprise for us both. Working together with Hannah over the 9 months leading up to the wedding were stress free and a whole lot of fun. We thoroughly enjoyed answering the questions about each other and reflecting on our 10 years together, which made it that extra bit special and personal.
It was a wonderful experience collaborating with Hannah and having that input into our ceremony. Hannah not only organised and wrote the ceremony itself, she also liaised with the venue and our photographer and videographer, to ensure that they knew the Order of Service in detail and could capture all of the special moments during the ceremony. She arranged a run through at the venue a few days before to help calm our nerves and get excited for our big day.
Another wonderful touch that Hannah suggested was that we stood facing our guests throughout the ceremony. It was so lovely for us to all share our love and happiness together, laughing and crying with our loved ones. This only heightened the emotion and connection that we all felt throughout.
All in all the ceremony lasted 43 minutes… 43 minutes of pure joy, telling the story of Sam and Heidi, the childhood sweethearts, and we didn't want it to end. The words Hannah wrote for us were beautiful and we are very lucky to have the whole ceremony recorded. We are extremely excited to watch this for the first time on our 1st Wedding Anniversary.
Hannah is extremely kind, professional and genuinely wants the day to be perfect. She goes above and beyond her role as a Celebrant and I could not recommend her enough. At the start of the process she is your Celebrant, but by the end she leaves a friend.
From the bottom of our hearts…thank you.
Heidi and Sam'
'We've now just about come back down to Earth, roughly directly underneath where you are now, after an amazing period of our life celebrating our partnership. We really wanted to officially acknowledge and thank you for your contributions to our marriage.
Honestly, we're not sure we could have had a better ceremony. For us, it was such an important and symbolic part of our day that we really wanted to be something extraordinary. The level of emotion, mixed with both sincerity and humour, made for a half-hour that truly represented us as people. This would not have been possible without your expertise, knowledge and amazing presence.
Right from the first time we spoke with you, we knew we were in safe hands. You clearly have a passion for what you do and this shows in the level of planning and composure you demonstrate. Particularly with us being based overseas, we always felt that our ceremony was in control and would come together amazingly, and it did so infinitely.
The amount of people that told us that they felt our ceremony was the best one they have ever attended is testament to your work, so we really thank you so much Hannah, and wish you all the best for everything moving forward – hopefully our paths cross again at some point in the future!
Yours faithfully,
Sam and Heidi B'
Email sent once back home in New Zealand
'We will write you a much more thorough email to express the immense thanks we have for you, but just an initial note to acknowledge how amazing yesterday was. It was simply the best day of our lives, and the perfect ceremony.
We're really enjoying reading all of the contributions, so thank you for sharing those. Speak soon, Sam and Heidi'
'Thank you so very much for making the day absolutely perfect for Sam and Heidi. I know that the day was better than they could have ever imagined and your words were wonderful. Alice' (Groom's sister)
'The whole day was perfect from start to finish so thank you so much for your part in that. Words mean so much on a day like yesterday and you expressed it beautifully.
Happy 2019! Kind regards, Linda' (Mother of the Groom)
'The wedding was nothing short of magical. Thank you for your part on making it so. I've never been to a ceremony quite like it. Not just my words, I'm echoing the many compliments I received from all who had the pleasure to attend.
Thank you, Susan' (Mother of the Bride)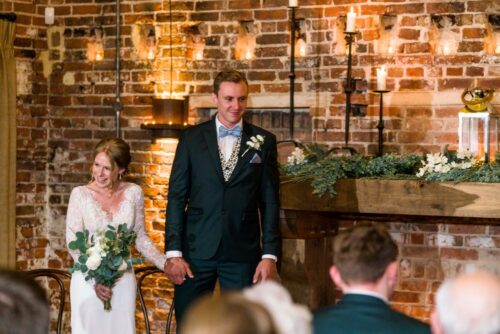 If you like what you've read in these testimonials, do check out my Weddings page and Instagram. If you've any questions, just drop me a line. It will be a pleasure to hear from you. HWG