'As neither of us are believers, marriage for us was about sharing our love with our friends and family and declaring our commitment in front of them, and for that reason the ceremony was always the most important thing to us. Before I had heard of a Humanist ceremony, the idea of meeting our assigned Registrar on the day of our wedding, realising that we didn't click and then having to share the most important day of our lives with them, really worried me.
When we started planning our whens and wheres we found that the most special surroundings didn't necessarily host legal weddings. On investigation we realised that "legal" wasn't really all we were after in a wedding. We wanted something the recognised our friendship, love and compatibility and that marked the start of a new stage in our adventure (life!) together.
Finding Hannah took away all my worries about bringing a stranger into our most special day, after our very first conversation John and I both knew that we'd be delighted to share our day with her. It's impossible to describe how perfectly Hannah met every one of our needs in the run up to and on the day of our wedding. I think it's safe to say she's even had an impact on our marriage.
If I had to pick one thing to tell people about, it would be the process of creating the Humanist ceremony. In asking us questions about our story as a couple, our feelings about vows, rings and marriage Hannah gave us space to reflect on our relationship and gave us prompts to start planning what we wanted in marriage. This was such a lovely period of our engagement – it's not often you sit down and commit to paper what you love about your partner.
Reading what John had to say about me, and the fact that he found it so easy to say those positive things, confirmed for me that we were getting married for the right reasons (namely that we are besotted!) and emphasized that we wanted the same things as one another in our relationship after the "Big Day".
The end result of this process was a ceremony which perfectly reflected us, our story so far, and what we hope to be. Hannah transformed the essence of what we believed about marriage into a beautifully-worded script. I knew I'd be emotional about the words we were saying but I was surprised to see many of our congregation moved to tears too. So many of our friends gushed to us about the originality of the Humanist ceremony, and I know we just wouldn't have been able to create so something so "us" without Hannah.
There are so many other great things which I could rave about! From big things like giving advice when we needed someone experienced to take control; making sure we were happy and calm at each stage of the day; stage direction (including lights, music, timings and a hidden groom!) and smaller things like allowing us to pay in instalments and having a lovely calm attitude at the rehearsal when we had lots of over-enthusiastic groomsmen, bridesmaids and venue volunteers faffing around us!
Hannah was so much more than we hoped for – she was our Celebrant, our host, our MC, our crowd control and our event manager. Her experience shows in everything she says and does and her calm, friendly manner was a very welcome addition to our Big Day.'
Meg and John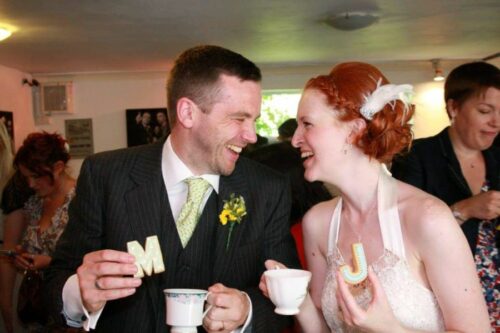 If you like what you've read in Meg and John's testimonial, do check out my Weddings page and Instagram. If you've any questions, just drop me a line. It will be a pleasure to hear from you. Hannah WG