'As you now know neither of us could be accused of being overly organised or particularly prompt – qualities which are pretty key when planning a wedding. However, with your help and guidance we are happy to say that our wedding day was an absolutely amazing success and ran so smoothly.
From your regular and kind messages helping us organise the ceremony to your indispensable help on the day managing people and ensuring things ran smoothly all the way through to the heartfelt ceremony you performed which left us caught somewhere between laughing and crying (we honestly didn't stop smiling all evening!) you were absolutely indispensable.
So many of our friends and family commented on how sincere and professional your ceremony was and many more now have a much better understanding of why we chose a Humanist ceremony. We could not recommend you highly enough to any couple planning for their big day.
Thanks you so much for making our day so special!
Sarah and Dan'
'I just wanted to say a huge thank you for making Dan and Sarah's wedding so special. It was very meaningful and just 'them'. I especially loved the symbolism of the ribbon tying. With many thanks again and sending you love and best wishes, Jo' (Mother of the Groom)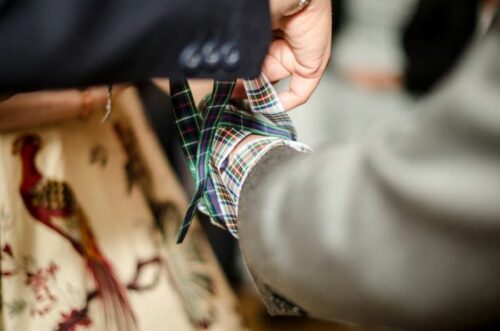 If you like what you've read in these testimonials, do check out my Weddings page and Instagram. If you've any questions, just drop me a line. It will be a pleasure to hear from you. Hannah WG