Testimonial | Harvey + Rosa
'We just wanted to say a huge thank you to you.
Your professionalism, good humour and warm, intuitive manner with people meant our family celebration and naming ceremony was the perfect day we'd hoped for. Everyone said how much they enjoyed it and how well they thought you'd delivered it. We will certainly, and always, recommend you without reservation.' Kate
'We had a strong vision for the naming ceremony of our children, and from the moment we met her, we knew that Hannah would help to shape and nurture this vision. Her warmth, intelligence and wit made us feel like we'd known her for years, and more importantly that she knew, and cared for us as a family.
Her collecting of all the stories, poems, readings, songs and thoughts of an extended group of family and friends and then the writing of the ceremony itself was all perfectly executed and everyone was happy to share with Hannah, even my Dad, who said she was so friendly and funny to speak to.
The naming ceremony itself, in beautiful organic gardens, was exquisitely delivered by Hannah; she put everyone at ease and again made us feel special and loved. She even brought the sunshine! Everyone commented on how perfect it was, and so much more than we ever could have hoped for.
We enjoyed our time with Hannah so much during the process leading up to the ceremony and the ceremony itself that we missed her when it was all over!! If anyone is looking for a humanist Celebrant I would recommend Hannah with a passion…and we would hire her again in a heartbeat.
Thank you Hannah, for our perfect day.'
Kate and Simon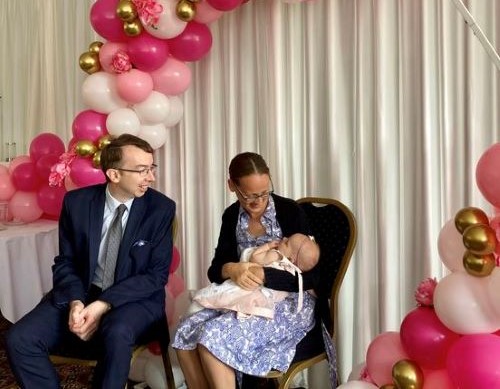 If you like what you've read in these testimonials, do check out my Namings page and Instagram. If you've any questions, just drop me a line. It will be a pleasure to hear from you. Hannah WG