Testimonial | Oliver (and later brother Ethan)
'Well we certainly chose well when we picked you to lead our son's naming ceremony…what a fantastic day!
Having never been to a humanist naming ceremony Jon and I did not really know what to expect, but you guided us through the process with professionalism and commitment.
The ceremony was exactly what Jon and I wanted: personal to us, emotional (yes there were many tears of joy during the ceremony including myself), enjoyable and above all so special.
I have had lots of feedback from my friends and family about how lovely the day was and we have you to thank for that.
So a huge thank you from Jon and I for all that you did to make Oliver's day so special and memorable.
Adele & Jon x'
Testimonial | Arthur
'Thank you so much for your lovely email.
It means the world to us that you think it went well and turned out just as we had planned it. I didn't feel able to look up for most of the ceremony because I couldn't bear to look anyone in the eye through fear of contagious crying, so I'm glad you felt that it went down as we hoped in the room.
And thank you sooo much for all your hard work before and during yesterday. We had so many comments about how wonderful you were and we of course thought so too.
Thank you once again and maybe one day our paths will cross again.
All our love – Phil, Sarah, Walter & Arthur.'
Testimonial | Seth
'Hannah and I have spent all week talking about what a lovely day we had.
All of our guests have commented on how warm and personable the naming ceremony was – and that was all down to you!
Everyone said how much they enjoyed your delivery and the occasion itself.
We can't thank you enough!
Adam & Hannah XX'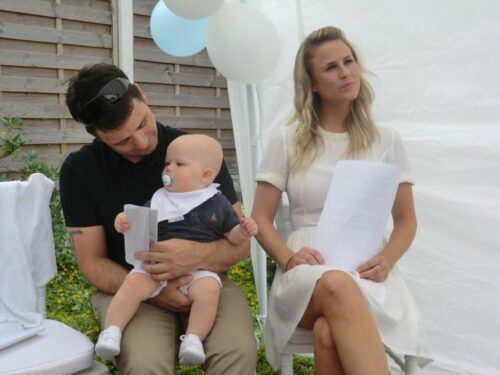 If you like what you've read in these testimonials, do check out my Namings page and Instagram. If you've any questions, just drop me a line. It will be a pleasure to hear from you. Hannah WG