'It was truly a very special and FANTASTIC day and in the true Angela tradition…. weekend!
Most of the family and some friends called yesterday, and we re-lived the day from start to finish again. At one point I sat back and watched and listened to them all talking with such admiration for you that it brought me to tears.
We received so many complimentary words in our guest book about the ceremony, your delivery and how so personal and touching it was from start to finish. I looked around at one point and there wasn't a dry eye in the place! Dave's Auntie said she'd gone through 4 packets of tissues!
We both want to thank you for everything you checked, wrote, amended and helped with. We both have said that your professionalism and heartfelt passion to create a unique ceremony shone through, and touched not only our hearts, but the hearts of all our guests and family.
All our love,
Dave and Angela'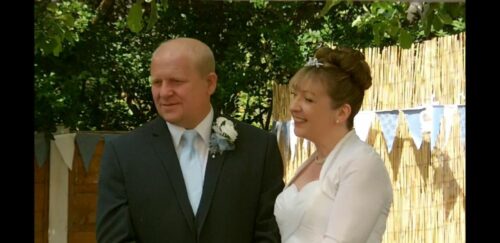 If you like what you've read in Angela and Dave's testimonial, do check out my Weddings page and Instagram. If you've any questions, just drop me a line. It will be a pleasure to hear from you. Hannah WG