'Hannah!!!
Thank you so much from the bottom of our hearts. You really made our day truly special.
I could fill this whole email with just saying thank you… You really are Yorkshire's best Celebrant!
It was an absolutely beautiful humanist ceremony – we couldn't have asked for more. Everyone commented on how lovely it was. It's the one thing we keep remembering of the whole day. Everyone was in tears, but happy ones.
All our very best,
Ian and Chim Xx'
'What can I say? Thank you from the bottom of our hearts for making the day fabulous and special. My favourite part of the whole day was the ceremony. Ian says the same. We really loved what you did and will never forget how perfect you were. THANK YOU!!! All the very best, Ian and Chim xxx' Thank you card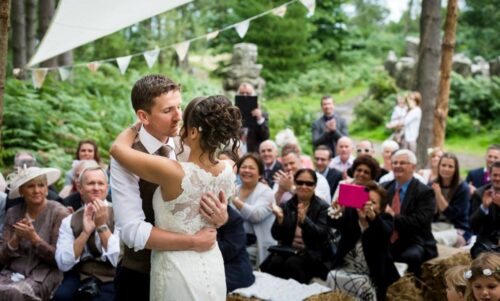 If you like what you've read in Chim and Ian's testimonial, do check out my Weddings page and Instagram. If you've any questions, just drop me a line. It will be a pleasure to hear from you. Hannah WG