'Hiring Hannah was the best choice we made other than deciding to get married in the first place. She came very highly recommended yet exceeded those expectations tenfold.
We didn't know what we really wanted for a ceremony other than it had to be bespoke for us and include family and friends. Hannah was very diligent and kind whilst working with us to tease out our stories, pulling out of our heads the type of ceremony that was absolutely perfect for us – even though we didn't have a clue what we wanted at the time! She kind of worked some special magic to weave it all together whilst patiently keeping us on track. It is a real skill that she has.
She was very attentive and brilliant at keeping in touch. We were not sure if we wanted readings, handfasting or other things. However, Hannah expertly guided us down the right track for us and encouraged us to go with our love of nature and yet did not make it contrived or twee. Our ceremony was heartfelt and all the guests were incredibly moved, most saying it was one of the best ceremonies they had ever been to and perfect for us.
On the day, Hannah worked superbly well with the venue and the staff, making sure every detail was perfect for the ceremony and engaging expertly with unexpected situations. When I arrived, I had forgotten my beautiful bouquet but Hannah calmed my nerves and helped us to just go with it. We somehow managed to make a new bouquet via the venue manager, photographer and random nice bloke outside who was having a pint whilst out for a walk who was also a florist. Honestly, you couldn't have made it up. Hannah helped pull the situation all together perfectly as we walked into the ceremony. Definitely a skill set, thinking on her feet!!
It's also worth noting that the venue manager and staff had incredible respect and high regard for Hannah as they have worked together previously. Her professionalism on the day really shone through in a calm and friendly manner.
Honestly, if we could add more stars to this review we would! Hannah made it the best day ever.'
Catherine and Andrew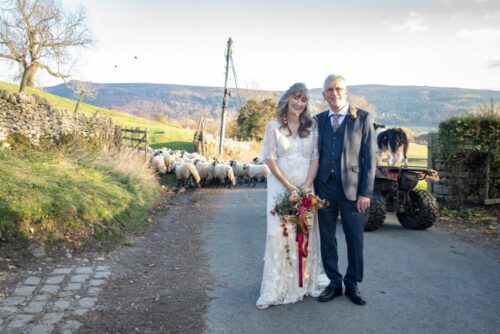 If you like what you've read in Catherine and Andrew's testimonial, do check out my Weddings page and Instagram. If you've any questions, just drop me a line. It will be a pleasure to hear from you. Hannah WG