'It is so lovely to hear from you, thank you for the beautiful script of our ceremony. It brings the day vividly to life and a tear to the eye.
Thank you for all your work in creating such a meaningful humanist ceremony and for leading the day with such grace. We are still twinkling with the joy of the wedding and honeymoon.
Thank you again for making it so special.
With all good wishes,
Janette xxx'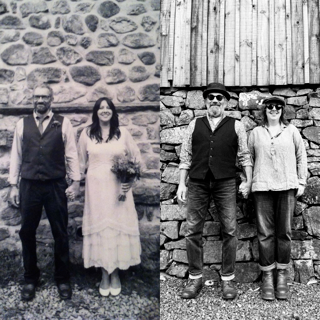 'Hi Hannah,
How are you? Hope all is well. Thank you for conducting our wedding ceremony 10 years ago at the Craven Arms Appletreewick. Hard to believe isn't it?
We thought we'd let you know we have just celebrated our 10th wedding anniversary on the Isle of Mull where we had our Honeymoon.
Great memories of our day and your fabulous contribution.
Then and Now
Thank you
Lewis and Janette x'
If you like what you've read in Janette and Lewis's testimonial, do check out my Weddings page and Instagram. If you've any questions, just drop me a line. It will be a pleasure to hear from you. Hannah WG