'Wow! I'll say that again WOW! What a fab day!! In planning our wedding, we contacted a number of Humanist Celebrants but just didn't get the right feeling from them. From the first time chatting to Hannah on the phone, there was an immediate connection and we knew she was the one who could make our dream day a reality. She said "It's a mad cap idea" and we were "bonkers" but she threw herself into it completely.
We had already hired the venue in Whitby (the Endeavour boat replica) and fingers were firmly crossed for a sunny day. So after many email exchanges between us and a meeting we felt as though we were having our friend conduct our wedding ceremony and very confident she knew just what we wanted, a one-off and very personal ceremony to us.
The big day came and so did the rain! In buckets! A fast contingency plan formed but amazingly the rain stopped just before we were due to board the boat and the sun came out to shine on us all. Hannah conducted our wedding ceremony with readings given by our family, and injected the upbeat, celebration feel that we hoped for. We simply couldn't have asked for more.
We really enjoyed the process of the 'getting to know you' and were delighted with the wedding script which totally reflected our relationship with an appropriate balance between seriousness and lots of laughter. We now kind of miss responding to Hannah's 'getting to know you' emails – some were easy to answer, some make you think, but the result is a truly personal Humanist ceremony that reflects your relationship and personality.
Give her a ring…… it'll be the best call you make!!!!!'
Alan and Kathy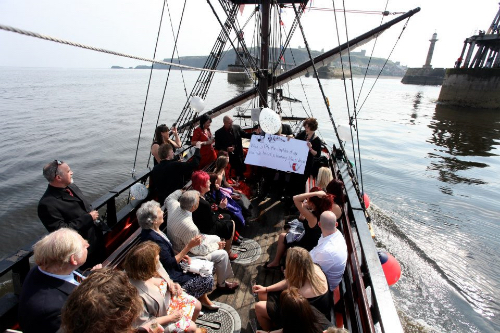 If you like what you've read in Kathy and Alan's testimonial, do check out my Weddings page and Instagram. If you've any questions, just drop me a line. It will be a pleasure to hear from you. Hannah WG