'Right from Paul proposing, we both knew we wanted a personal wedding which meant something to us, reflected our lives and values and represented us. Paul had been to a humanist ceremony in the past and we loved the personal and individual approach. So a humanist wedding was exactly what we wanted!
We spent a lot of time researching Humanist Celebrants, and came across Hannah on the Humanist website. After talking to her on the phone, it was clear Hannah was the Celebrant for us: she was as excited as we were about our engagement and wedding! She gave brilliant advice, without pressure or judgement, and was more than happy to calm any worries or concerns with a friendly email.
Hannah really took the time to get to know us as individuals and as a couple, which made the ceremony even more personal, it felt more like a friend was conducting it. All our friends and family commented on our unique, personal and moving service even to this day!
Hannah was brilliant in guiding us through the process of creating the humanist ceremony and when we decided to write our own secret(!) vows. With her infectious excitement, Hannah took time in helping us to write the vows and perfectly understood the importance of them to us.
The cost of hiring Hannah reflects her experience, enthusiasm and professionalism. We approached other (cheaper) Celebrants, but no other gave us the feeling that our wedding was as important to them as it was to us. Nor did they seem they would be as involved as Hannah was in helping craft the perfect day.
As we were always set on having a humanist ceremony, we always viewed the separate legal ceremony as just that – a paperwork exercise (even dressing in our comfy clothes to reinforce the fact we didn't see that as our official wedding!). Our venue was not licensed to perform weddings, so we 'had' to have a separate legal ceremony on the morning of our humanist wedding. But it meant we could have a little private moment with just our parents and each other before the madness of getting ready for our actual wedding and ceremony.
So overall, we cannot recommend Hannah enough! She has an amazing ability to make you feel like you are the only couple she's working with. The humanist ceremony she created for us was more than we could ever imagine. Every detail had been considered, and it was personal to the very end, nothing was generic.
To this day our friends and family comment on how our wedding was a beautiful day and how the ceremony reflected us perfectly as a couple. We loved every minute of it! We cannot thank Hannah enough for all her time, excitement and for the delivery of the ceremony itself.
Perfect doesn't even cover it!!'
Roisin and Paul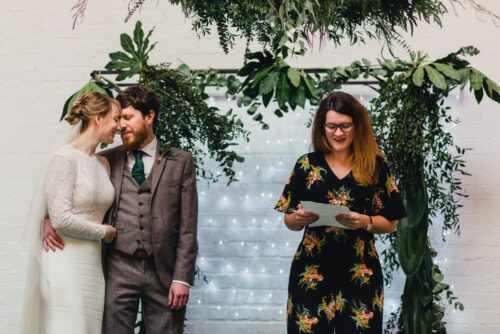 If you like what you've read in Roisin and Paul's testimonial, do check out my Weddings page and Instagram. If you've any questions, just drop me a line. It will be a pleasure to hear from you. Hannah WG