Testimonial | Ben
'We had the utter pleasure of working with Hannah on the naming ceremony for our daughter Nina in 2014, so when Ben arrived 3 years later, it was a no-brainer to ask her to be involved again!
Her warmth and genuine interest and care for her clients and their families is incredible, and the work she put in speaking to guide parents, coordinating readings, clarifying details and running through proceedings meant the lead-up to the Big Day was wonderfully relaxed.
This carried over into the naming itself, which we were keen to hold within our lovely urban community, and Ben's guests were bowled over by the intimate and personal humanist ceremony, which was full of laughter and wisdom. Everyone loved tying their wishes on to Ben's oak tree, which is now flourishing in a windswept corner of North Wales!
I can't recommend Hannah highly enough. She is a wonder and played a huge part in making our children's Naming Days such beautiful experiences.
Naomi & Dan xxx'
'We just wanted to say the most enormous THANK YOU for organising and leading such a beautiful, touching and personal ceremony for Ben, and, well, us all, really. Everyone we spoke to enthused about it, and there were a few teary eyes I believe!
Once again, it has been a delight working with you.'
Naomi
Testimonial | Grace
'We had a fantastic day, thank you so much for everything.
Soooo many people have told us how much they enjoyed the naming ceremony.
I think it was new to a lot of them!
It was such a relief to have you there and know that you knew how to do things 'just right'.
Our very best wishes,
Kate, Dave and Grace x'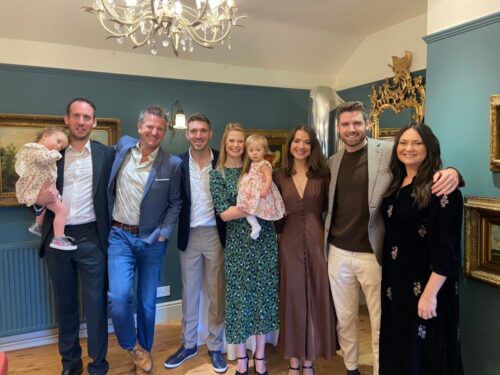 If you like what you've read in these testimonials, do check out my Namings page and Instagram. If you've any questions, just drop me a line. It will be a pleasure to hear from you. Hannah WG