Testimonial | Woody (and later brother Wilf)
'Thank you so much for conducting the ceremony!
We've had good experiences of humanist weddings before – and just love the personal feeling they always have – and you didn't let us down. Everyone commented on what a nice naming ceremony it was.
Hopefully our paths will cross again – you are now our go to humanist!
Best wishes,
Jane, Mark & Woody xxx'
Testimonial | Wilf
'Thank you so much for conducting our ceremony yesterday.
It was once again fabulous.
Totally perfect for us.
With love, from Jane, Mark, Woody & Wilf xxxx'
'Thank you so much for the absolute pleasure of being a part of your service. It was my first experience attending and speaking at a celebration like Wilf's. It was certainly a special day, and I loved being a part of such an intimate and wholesome experience. You certainly have a wonderful job, and I hope to see you again in the future – maybe once I've had my own children, if not before!
Best wishes,
Harriet x (guide-parent)
Testimonial | Luca
'My partner and I wanted to do something really special and welcome our son Luca into this world as he has brought us such love and joy. Neither of us are big believers in God and we never go to church so we felt uncomfortable having a Christening.
That's when I started looking into Naming Days and I am so happy I did. I emailed Hannah and she talked me through every step, making it very easy and stress free.
The day went so smoothly (even though I had come down with a sickness bug the night before). Hannah took care of me and put my mind at ease that I could sit back and relax. Everyone said how beautiful and personal it was.
I really loved how the Guide Parents worked alongside Hannah and came up with their own promises to Luca along with our own. Very touching and memorable that some of our friends are now booking Hannah in for their own namings.
Teresa & Jay'
'We found you to be a warm, friendly, professional and very interesting person…and you are so good at your job! We would love to recommend you to friends and clients so please send us cards if you want to.
Marcus and John' (guests)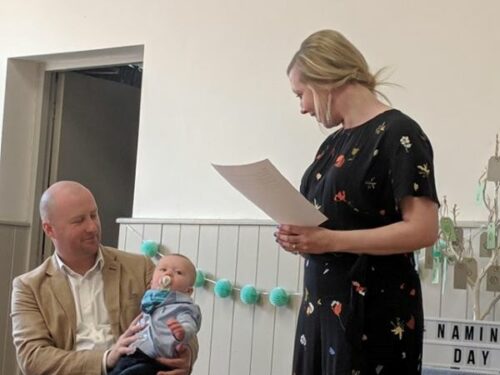 If you like what you've read in these testimonials, do check out my Namings page and Instagram. If you've any questions, just drop me a line. It will be a pleasure to hear from you. Hannah WG