Testimonial | Finlay (and later brother Lachlan)
'I just wanted to say thank you so much for everything; for being so proactive in the organising of Finlay's naming ceremony; for coming up with so many different ideas; for being so accommodating at such short notice; for making us feel so relaxed about everything and for being so clearly passionate about what you do.
We received so many lovely comments about the ceremony. It was definitely the best way to celebrate Finlay's first birthday, we're both so glad that we did it. And we definitely made the right choice in you as our Celebrant.
Expect a phone call when we have another baby!
Take care, Kay + Shaun xxx'
Testimonial | Lachlan
'We just wanted to say a massive thank you for Saturday.
You just seemed to have everything in hand, even down to printing off copies of people's readings and our promises, something that I hadn't even thought of.
The naming ceremony couldn't have gone any better, it was heartfelt, sincere and there were a few tears. One of my close friends said how she was welling up and she thought it was due to your deliverance. You have a lovely way with people and everyone was saying at the end what a lovely ceremony it was and how lovely you were and that you took time to go and have a chat with everybody.
So thank you for being so nice, welcoming, making sure everything ran smoothly and for giving us yet another truly memorable day.
Take care,
Kay, Shaun, Finlay and Lachlan'
Testimonial | Sienna
'We just want to say a massive thank you for making Sienna's Naming Day so special.
You really did bring it all together and the ceremony was everything we hoped for and more. We got so many lovely compliments off family and friends about the ceremony, especially how personal it was. Thank you! We had such a lovely day and will always look back with fond memories.
Thank you again,
Ria, Scott and Sienna x'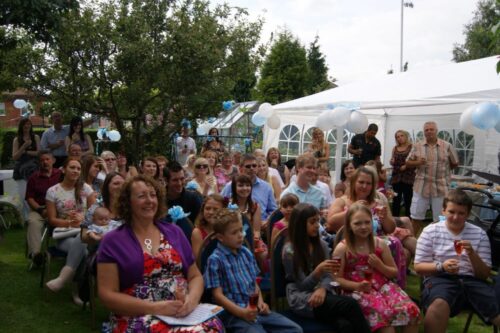 If you like what you've read in these testimonials, do check out my Namings page and Instagram. If you've any questions, just drop me a line. It will be a pleasure to hear from you. Hannah WG