Testimonial | Robson
'Neither of us can put into words just how incredible our little boy's naming ceremony was.
The whole process from first contacting Hannah was met with such warmth. The evening absolutely summed us up as a family. We could not have asked for a single thing more. We've had a lot of friends and family come up to us and say how brilliant the naming ceremony was and how it really did sum us up perfectly.
I would not hesitate to recommend Hannah to anyone who is wanting to break away from traditional or religious ceremonies. Hannah really takes everything you want and makes it perfect!
Thanks again,
Liz, Steve and Robson'
'Thank you so much for last night.
The number of people who've said it was very personal and completely us is immense!
We thoroughly enjoyed it as the whole thing summed us up.
Thank you again for everything!
You made Robson's day amazing and complete.
Liz Xx'
Testimonial | Ethan
'It really did go well and everyone loved it. Thank you so much for conducting Ethan's ceremony. It's lovely to have both brothers named by the same Celebrant several years apart.
The day ran so smoothly….and that was helped greatly by your organisation and attention to detail. We will treasure the script….a copy will be going on Ethan's memory box. Thank you also for going above and beyond…helping cook pizzas and holding Ethan!!
We wish you all the success with your Your Three Days business. We, for one, highly recommend you!
Adèle & Jon'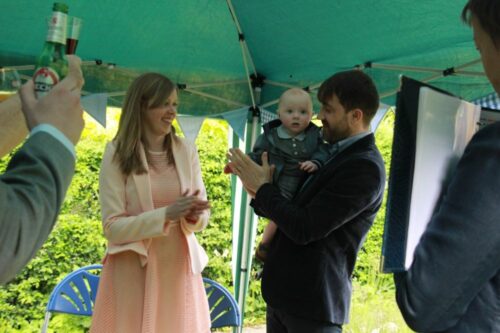 If you like what you've read in these testimonials, do check out my Namings page and Instagram. If you've any questions, just drop me a line. It will be a pleasure to hear from you. Hannah WG