Testimonial | James (and later sister Charlotte)
'We wanted to celebrate James' arrival into the world and into our lives and we wanted a non-religious way of doing this. Having done some research we came across the idea of a humanist naming ceremony and we found that this fitted perfectly with what we had in mind.
However, this being our first time doing this and particularly with our families being unfamiliar with a humanist naming ceremony, we were anxious about ensuring it was accessible for everyone and provided a meaningful and special celebration of James' new arrival. Hannah put us completely at ease and walked us through the process of creating a ceremony that reflected our personalities and perspectives on life and hopes and dreams for James.
She provided examples of readings and vows and suggestions for symbolic acts from which we could draw inspiration. Throughout the whole process, the relationship with Hannah was very positive and she made everything as easy as possible for us. She was always there to answer our queries and a very thorough professional.
Gavin's sister who acted as a guide parent for James commented afterwards that writing her vows made the naming ceremony a personal and honest statement of her intent for James and his life ahead.
We are truly thankful to Hannah for helping us to make the ceremony an intimate and inspiring event which brought together our family and friends for a memorable day.
Many thanks, Gavin, Gemma and James'
Testimonial | Charlotte
'Thank you again for such a fabulous day. Many of our family & friends have commented how personal it was. We loved every minute of it! Good luck for the future.
Best wishes, Gemma & Gavin' Thank you card
'Thanks Hannah. Yes it was lovely to meet you. I was really struck by what a lovely lady you were and how well you performed the ceremony. It was such a lovely day.
Kind regards, Eve' (guide-parent)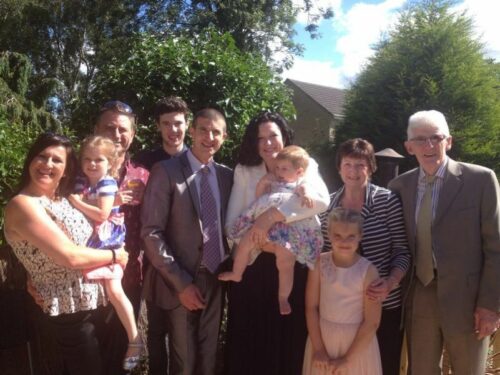 If you like what you've read in these testimonials, do check out my Namings page and Instagram. If you've any questions, just drop me a line. It will be a pleasure to hear from you. Hannah WG