Testimonial | Evan + Imogene
'We are lucky enough to be blessed with two wonderful children. As my husband and I are both atheist, we did not want to christen our children. We did however want to celebrate their arrival.
We chose Hannah to run the proceedings for our first child's naming ceremony because she seemed so enthusiastic about helping us achieve the commemoration we wanted from her very first contact. She was amazing. So much so that we couldn't have imagined welcoming our daughter to the world in any other way than to duplicate our son's ceremony.
Hannah managed to keep the sentiment the same second time around, while still making our daughters celebration unique to her. I can't recommend Hannah highly enough. She was so warm and caring in delivering her script that our guests thought she was a family member or close friend.
She almost makes us want to have a third child … Not quite though!'
Cheryl and Dean
Testimonial | Evan
'Thank you for a fantastic day.
Absolutely everyone said how heart-warming and personal the naming ceremony was. They all thought it was the best naming they'd been to, and far better than a Christening. Most people even thought you were a friend because you were so natural.
For Dean and myself it was just an amazing experience, far better than we could have hoped for. I'll definitely be back in touch when we get round to baby Number 2.
Thanks again for making yesterday so very special,
Cheryl, Dean and Evan xxx'
Testimonial | Imogene
'We all had a really lovely day.
Everyone complimented us on what a heart warming ceremony it was. Once again you did a tremendous job of capturing our emotions and delivering them in a sincere yet light hearted way.
While Dean and I won't need you for anymore naming ceremonies, I have a feeling this isn't the last you've heard from our family.'
Cheryl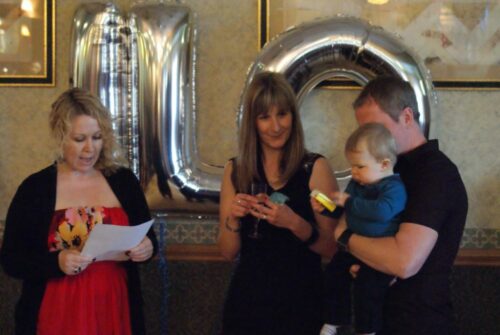 If you like what you've read in these testimonials, do check out my Namings page and Instagram. If you've any questions, just drop me a line. It will be a pleasure to hear from you. Hannah WG