Testimonial | Raeya
'Celebrating the arrival of a child has always been something important to me so when I was pregnant with our daughter I began to research the best ways to do this. I knew that I didn't want something generic, I wanted something unique and special. Hours of research led me to a humanist naming ceremony and to Hannah.
Hannah very kindly agreed to "interview" with us, so that we could make sure she really was the right person to lead our day. From that very first phone call we could tell how passionate she was about what she does. Hannah spent a significant amount of time with us on that first call, nothing felt rushed, she was happy to answer all our questions and she seemed generally interested in us as people and our family.
I didn't need time to think, I knew out of everyone I'd spoken to that Hannah was the best person to ensure we had the special personalised day we wanted and booked her on the spot.
That first phone call set high expectations but Hannah beat them all. She guided us through each step in the process and what I really appreciated was the "just checking in" emails, so we knew that she hadn't forgotten and was just seeing how we were doing. The process was really enjoyable getting to our first draft of the ceremony. Hannah was happy to discuss any feedback, shared some thoughtful ideas to incorporate our older son and also how to handle a very sad situation related to one of our intended guide-parents who had passed away. We were in essence gently guided into the wonderful final draft.
The day itself, well that was absolutely fantastic and exactly everything we had hoped it would be – unique and special just like our daughter. We cannot thank Hannah enough for everything she did to make our daughter's naming ceremony exactly how we hoped it would be. We would highly recommend her.'
Michelle and Jamie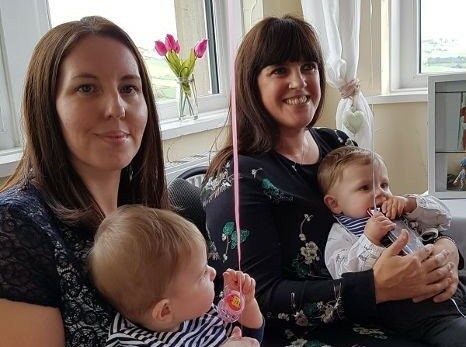 If you like what you've read in this testimonial, do check out my Namings page and Instagram. If you've any questions, just drop me a line. It will be a pleasure to hear from you. Hannah WG