'We wouldn't hesitate in recommending Hannah if you are looking for a non religious but personal, heartfelt, light hearted yet moving ceremony.
Right from the start and the initial phone call she made us feel at ease and she was organised and professional throughout – helping us quickly with anything we needed, including a practice run, and pointing us in the right direction.
Hannah asks you a series of questions about each other and your relationship. Then from your own words, crafts a wonderful emotional journey through your relationship to the present day, and beyond, knitting in humour, key milestones, random facts and anything else you throw her way.
We cannot begin to say how pleased we were with the end result – it was absolutely perfect. Hannah delivered the humanist ceremony with the right amount of gravitas, but with warmth and humour. She involved key people in the room both before and during the ceremony so it really felt like a team effort. There was laughter, tears, smiles and joy all round.
Our friends and family were bowled over with the ceremony – they felt it was so "us" and captured us as a couple perfectly. One relation even said that she would do the same if she had her time again.
Thank you Hannah.
Claire and Niall x'
'Thanks so much for this and also the ceremony – it really was amazing and so many people have commented on how much they enjoyed it. Everyone thought it captured the essence of us as a couple and it had everything – laughter, tears and joy!
We both thought it was the best way possible for us to celebrate our marriage and it set up what was a fantastic day with everyone.
Thank you! And also for your trip over to do the rehearsal on the Friday.
Claire and Niall x' Messages after the ceremony
'Thank you so much as well for creating the ceremony. It was lovely. It had it all – even the participation the police! Our family and friends loved it as did we, even through the tears! The party in Kettlewell was also fabulous. Looking back I can't say I would have changed anything about the day. It was perfect and so much better than we could of imagined. We're looking forward to unwinding for a few days to take it all in. Best wishes, Niall'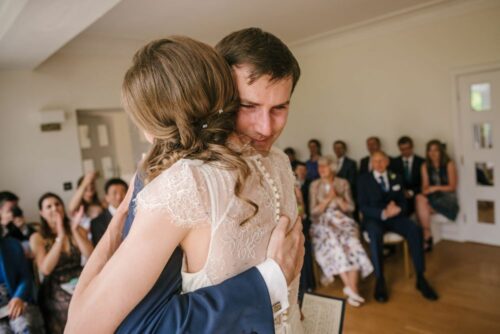 If you like what you've read in Claire and Niall's testimonials, do check out my Weddings page and Instagram. If you've any questions, just drop me a line. It will be a pleasure to hear from you. Hannah WG