'Thank you so very much for everything!
It really was the perfect ceremony for us – personal, sincere and beautifully delivered.
It meant so much to hear it all come together with our family and friends as witnesses.
To reiterate what we said on Saturday too, it has been a real pleasure to take this journey with you from the very start and you've helped make us really think about who we are and what is important to us.'
Jess and James
'We just wanted to write to you and tell you again how much we loved the humanist ceremony you wrote and delivered for us. We had so many positive comments about how personal it was, how honest and how beautifully it came across. Apparently it had everyone in tears!
We have (as you might expect) discussed the wedding LOTS while we've been away and continue to come back to the fact that we are so glad we found you and made the decision to prioritise the ceremony part of the day. It set the tone for a wonderful day to follow (not to mention setting the tone for the way we want to live our lives together).
Thank you so much for all your time, wisdom, sense and direction throughout the process.
Jess and James x'
'We just wanted to send a note to say thank you so much again for being our Celebrant. The ceremony you wrote for us meant so much to us and time and again guests have told us since then how beautifully you led it! Love, Jess and James xx' Note in card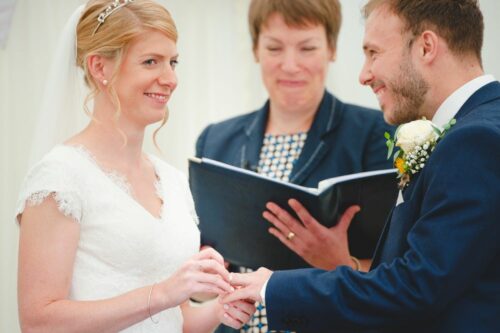 If you like what you've read in Jess and James's testimonial, do check out my Weddings page and Instagram. If you've any questions, just drop me a line. It will be a pleasure to hear from you. Hannah WG