'When we booked our wedding we assumed we would have a standard Registrar's service.
However, when we looked at the options of wording available we realised that we wanted a much more meaningful and personal way of making our commitment to each other. One of my best friends had had a humanist service several years ago and it was she who suggested we look into it as an option.
After doing some research we thought that it sounded interesting but didn't know if it was something which was for us. We found Hannah through a Google search and I had a call with her. She soon dispelled any concerns we had that this was some sort of 'hippy' option and explained the detailed and personal nature of the service to us.
Over the coming months Hannah set up regular 'homework' in the form of questions and answers went between us via email. After a huge amount of work on her behalf she sent us through our draft ceremony and we both had a tear in our eye (my husband is an ex-boxer so crying isn't something he is given to!) as we were so overwhelmed by how perfect for us it was and how full of meaning.
Hannah managed the whole event so beautifully and ensured that everyone had rehearsed and knew exactly what they were meant to be doing and when. On the day we all felt relaxed and knew we were in good hands. The humanist ceremony was fantastic with readings from our children and friends, a tying the knot ceremony, lots of stories about our first meeting and our relationship and what had brought us to our wedding day and lots of emotion and laughs.
After the ceremony, our guests told us how blown away they had been by the whole experience. Most of them had never even heard of a humanist ceremony (as we hadn't before my friend had mentioned it to us) and all thought it was a wonderful way of making our commitment. Our friends who got married 6 months before us said they wished they had know about it as they thought it far outshone the Registrar service they had had! Several guests told us it was the most loving and joyful wedding they had been to.
We are so happy that we found Hannah and that we made the choice to have this ceremony. Her ability to marry professionalism and warmth are what made it such a perfect choice for us. It was so individual to us and was far better than we ever hoped for.
We miss her emails and just wish we could do it all again!'
Claire and Tom
'Everyone was so full of admiration for the beautiful humanist service and several of the male guests admitted to shedding a tear. We have been talking and agree that it was all so much more beautiful and personal than we ever imagined. Thank you so much for all your care, dedication, professionalism and warmth. Claire Xxxx' Message after ceremony
'Hannah, THIS IS AMAZING. Just so beautiful – so, so, much more than I had hoped. I have no clue at all how I'm going to manage on the day. Thank you so much – it will be the most fantastic wedding! Claire + Tom' Message sent on receiving their first draft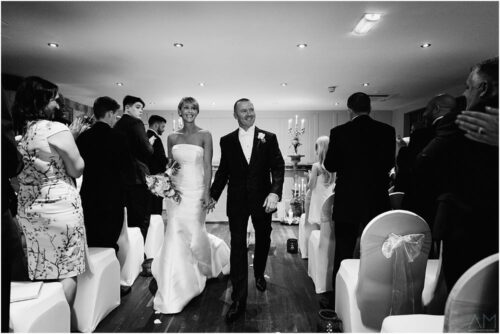 If you like what you've read in Claire and Tom's testimonials, do check out my Weddings page and Instagram. If you've any questions, just drop me a line. It will be a pleasure to hear from you. Hannah WG