'Thank you so much for such an intelligent, very personalised and emotional ceremony. It was truly wonderful how you made each and every one of us feel such a special part of it.
I think for me amongst all the praise and wonderful comments from all present the most telling surely must be from Marc, our sixteen year old son, who was so moved and touched by it all. He said 'I am absolutely definitely having a humanist Celebrant to do my own wedding. I wish I could have Hannah.' A lot of mouths dropped and eyebrows raised as he is yet to find himself a girlfriend let alone one willing to marry him!
So Hannah for so inspiring and motivating my son, which takes some doing, and for your professionalism and warmth and wonderful care of us all on the big day a HUGE "Thank You".
P.S I couldn't believe how the one thing we all most dreaded (raining during the open air ceremony) thanks to you handling it with complete and utter professionalism and flair, we all felt it actually enhanced the whole thing it was actually quite delightful and just so funny and British.
We will be laughing and smiling about that for a long, long time.'
Debbie x (Danielle's mum)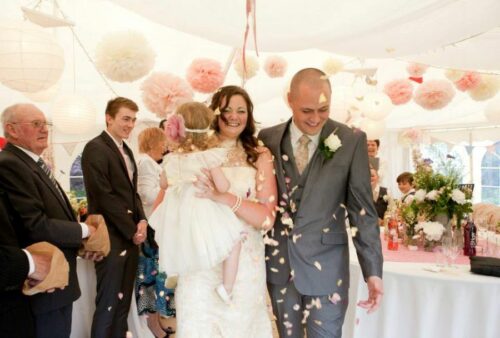 If you like what you've read in Debbie's testimonial, do check out my Weddings page and Instagram. If you've any questions, just drop me a line. It will be a pleasure to hear from you. Hannah WG