'I first contacted Hannah as I wanted a 'blessing' at our wedding which actually meant I wanted someone to say something while we got some pretty photos. As soon as I spoke to her I knew we would be getting so much more than that.
The amount of work Hannah put in from the first point of contact was unbelievable! She sent Simon and I some questions to answer separately, but Hannah was on hand to help out at any time.
We were sure we didn't want a deep and romantic ceremony, I was initially nervous about telling Hannah about this but she was so happy I did and she made the ceremony perfect for us. Our main priority was to have our 2 children Holly and Bobby involved, Hannah incorporated them into the ceremony so well, our daughter delivered the rings and did a reading.
All of our guests commented on how lovely the Your Three Days service was, so personal, so unique, so inclusive of the whole family. Hannah certainly made our day so wonderful, she was worth every penny and we can't thank her enough.
Rachel, Simon, Holly and Bobby x'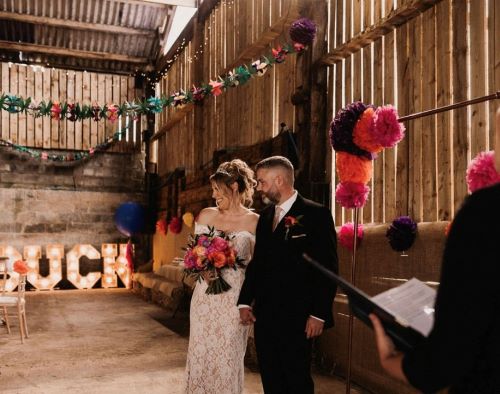 If you like what you've read in Rachel and Simon's testimonial, do check out my Weddings page and Instagram. If you've any questions, just drop me a line. It will be a pleasure to hear from you. Hannah WG