'We had worked with Hannah previously when she had delivered the naming ceremony for our daughter which was a wonderful day. So when we decided to get married it was a foregone conclusion that our date would hinge on Hannah's availability to conduct the ceremony.
The process of building the content was really enjoyable and it was always exciting to receive Hannah's emails to discuss and agree the various options we could include. The most emotional of these emails was the one including the first draft of the ceremony.
We were astonished how Hannah had interwoven our own words into the flow of what she had written to make a beautiful, personal and unique ceremony. On the wedding day it was even more poignant. Hannah told the story of us, in front of our guests, which was surprisingly intimate, and there were laughs, tears and lots of love in the room. The hand fasting involving our daughters was one of the most memorable moments of our lives.
We appreciated all the guidance, support and care Hannah gave us to co-create a ceremony that reflected our life, our choices and our love for each other and our family. It feels like you're working with a friend who will always steer you to the right place through sound advice, encouragement and inspiration. She gives a feeling of assurance through her wealth of experience, coupled with her calm and positive nature and you just know you're in safe hands.
We wouldn't hesitate to recommend Hannah to anyone who wants to add a personal and unforgettable element to their special day. We are thrilled that she has been integral to two of the most important days of our family life and we have no doubt we'll call on her services again.
Thank you Hannah for your hard work and contribution to making our wedding day perfect and just what we wanted.'
Helen and Simon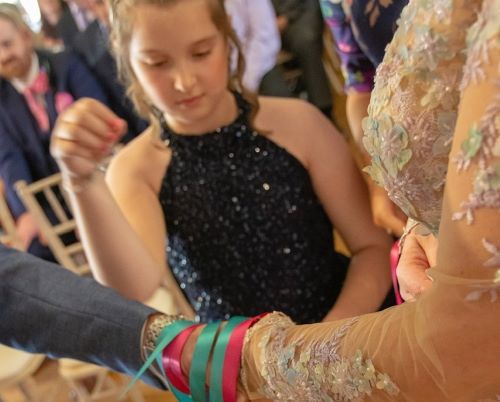 If you like what you've read in Helen and Simon's testimonial, do check out my Weddings page and Instagram. If you've any questions, just drop me a line. It will be a pleasure to hear from you. Hannah WG