Testimonial | Clementine + Freddie
'We first saw a Your Three Days ceremony at a very good friend's wedding and to say we were impressed by the beautiful words and of course Hannah's delivery is an understatement. We had never heard of a Humanist Celebrant, but loved that wedding!
Fast forward a year or so to the arrival of our daughter, we thought it would be the perfect way to welcome her officially into our family and the world. Neither of us are particularly religious so a christening didn't feel quite right, but then we recalled the ceremony at that wedding and decided a Naming Day would be exactly the right thing for our family.
When Clementine was 6 months old, Hannah wrote and performed her Naming Ceremony and we had a wonderful day. Our hearts were full of love at the close of the day, it suited us perfectly. Hannah took the time to ask lots of questions, getting to know our style as individuals and a family so the words she spoke truly reflected us. She coaxed our feelings about our new baby, family and each other from us and the result was wonderful. The best balance of love, warmth and a little humour too.
There was no question that we wanted to name Freddie in the same way, it just took us a while longer to get ourselves together and Hannah finally wrote for us again for Freddie's Naming Ceremony when he was almost 18 months old. Going through the process again with Hannah reminded us of how much we had enjoyed and cherished Clemmie's day and just how good at what she does Hannah really is!
Knowing we won't have any more children, we find ourselves wondering what other events Hannah could be part of for our family.'
Jenny and Graham
'We've had some time to come down to earth from yesterday's lovely event and we've sat and opened the generous gifts our friends and family have given to Clemmie too.
We wanted to thank you again. The ceremony was just what we wanted: a great balance of relaxed formality, humour and love.
We look forward to receiving the copy of the ceremony next week. We will cherish it.
Warm regards,
Jen, Gray and Clem x'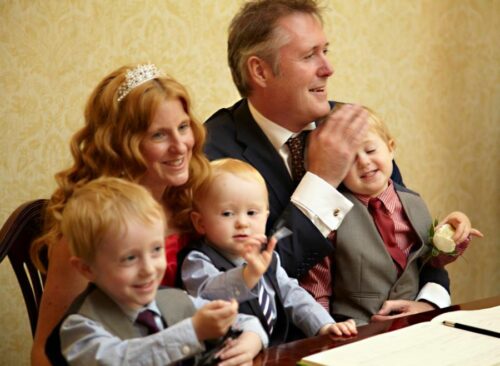 If you like what you've read in these testimonials, do check out my Namings page and Instagram. If you've any questions, just drop me a line. It will be a pleasure to hear from you. Hannah WG