Testimonial | Jack
'We are left feeling a little sad as our special day is now over, but that is only testament to the fantastic job you did.
It was such an emotional day and the humanist naming ceremony was everything and more we wanted for our little boy Jack, all those months ago when we first contacted you. We wanted to opt for a naming ceremony not only for the obvious religious reasons but also so it would be a truly personal day dedicated to Jack.
We're not sure if every humanist ceremony is conducted the way you approached it, but we cannot thank you enough for all your efforts in gathering the information you needed to get a real feel for us as a couple and our family life. It made for a really lovely day and our sadness is solely because it's all over!!!
It was a pleasure to meet you and we're so grateful for the fantastic job you did to mark our son's birth.'
Lisa and Barry
'It was lovely to meet you yesterday. Thanks for your help with the promises. The naming day went extremely well and was very emotional. You did a fantastic job!
Serena' (guide-parent to Jack)
Testimonial | Vaughan, Laurus, Wylie
'Hannah was the consummate professional in leading the naming ceremony for our three boys.
At every stage of the process, from writing scripts to lighting candles, Hannah made everything easy, fun and comfortable for us as a family.
Our day was truly wonderful and Hannah played a big part in making it so personal. Many of our guests were moved by the humanist ceremony and commented on what an unforgettable experience it was.
Thank you Hannah, what a gift you gave us!'
Meredith and Mark
Testimonial | Billy
'Thank you so much for making Billy's naming ceremony perfect!
It was everything that we hoped it would be: fun, personal and all about Billy and welcoming him to the world.
Throughout the ceremony close friends and family were made to feel involved and special; you really made an effort to 'get to know' us in the preceding weeks and this was apparent during the ceremony. The delivery and content were just perfect. Everyone has since commented on how beautiful the humanist ceremony and day was.
We knew that you were just what we were looking for, after the first conversation; someone enthusiastic, passionate and interesting, oh and patient!!
Thanks for making the naming ceremony everything and more that we hoped it would be.
Ellie, Tim and Billy xxx'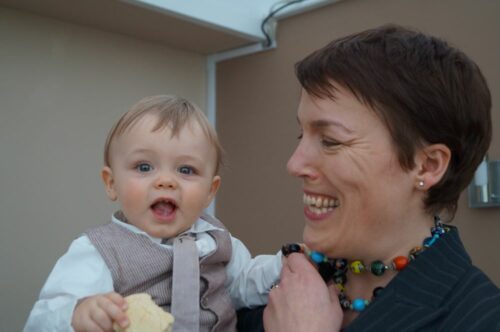 If you like what you've read in these testimonials, do check out my Namings page and Instagram. If you've any questions, just drop me a line. It will be a pleasure to hear from you. Hannah WG