Testimonial | Ivy
'It was really important to us to have a special day to celebrate the birth of our daughter, all the joy of her first year of life and choose special people in her life who will guide her. Having a Naming Day rather than a Christening was the perfect celebration and Hannah made this event truly special.
From the very start, Hannah guided us through the process, with questions which made us think and reflect on our first year with her and the result was a personalised, intimate and beautiful ceremony which everyone loved. Hannah's delivery of the ceremony was fantastic, keeping everyone's attention and making them laugh (and cry). She was professional and organised and made the whole process incredibly easy for us and our guide parents.
If you are looking for a bespoke ceremony for a special occasion, I couldn't recommend Your Three Days highly enough. Thanks to Hannah, our Naming Day is a day we will treasure forever.'
Justine and Andrew
Testimonial | Archie (and later sisters Betsie and Ronnie)
'We decided to have a naming ceremony over other services as we really wanted a personal touch. We wanted to share the birth of our baby with all our friends and family members in a relaxed and happy environment.
After much thought we decided on a garden party and worked with Hannah to create a bespoke day especially for us. The sun shone brightly and the atmosphere was joyful with everyone chatting and eager to see what the day would bring.
Hannah spent time explaining the service and spoke about our personal wishes and feelings for our son, something that was so far from the impersonal approach in a christening service. Several family members wrote their own readings and these were worked into our service along with personal vows from us to our son.
The service was full of laughter, fun and tears of joy along with serious commitments from friends to guide and support our son through life.
Our friends and family talk about our special day constantly and many friends have thanked us for the inspiration to consider naming ceremonies in their lives. I wouldn't hesitate to contact Hannah in the future for any of the services she offers. If you want a unique, personal and special day for your child then without a doubt you should consider a naming ceremony.
Thank you Hannah for everything you did for us and our family.'
Victoria and Richard
Testimonial | Isla
'We are just coming down from the weekend and cannot believe how lucky we are to have had everything go as it did. Compliments to you on the whole thing too.
We were so happy with how you conducted the naming ceremony and I really enjoyed the process of email exchanges beforehand and must admit feeling slightly giddy when I saw your name appear in the inbox!
I hope it won't be the last time we see you.
Look forward to hearing from you again.
Helen & Simon x'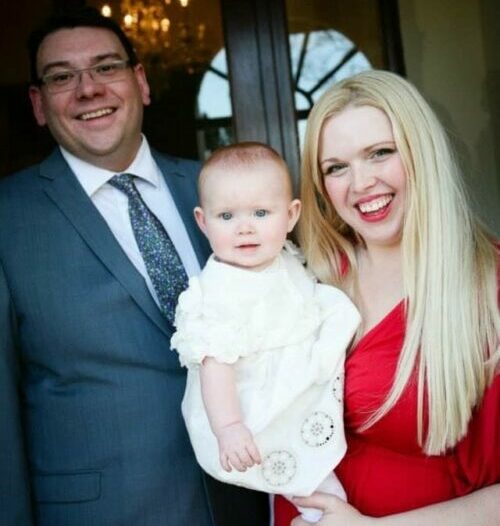 If you like what you've read in these testimonials, do check out my Namings page and Instagram. If you've any questions, just drop me a line. It will be a pleasure to hear from you. Hannah WG